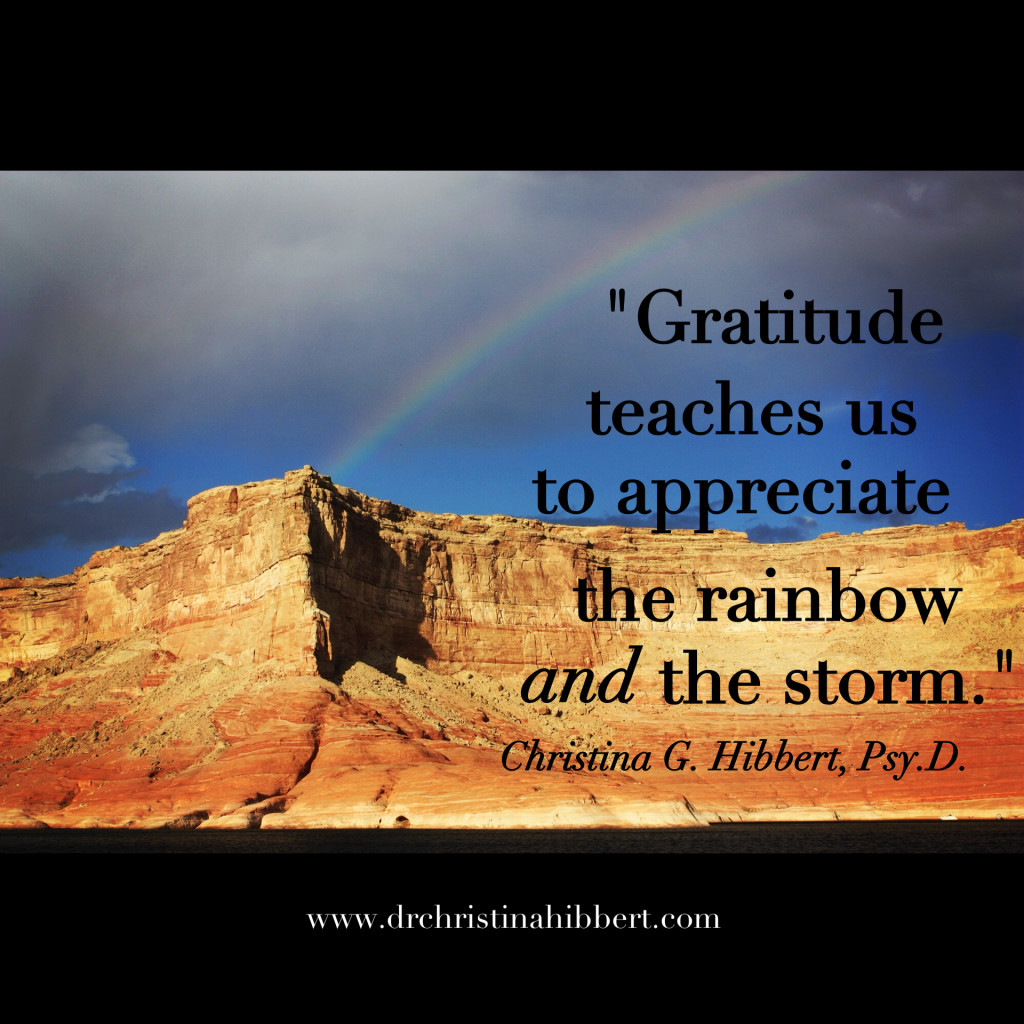 At one point in my life I was accused, by someone I loved very much, of being the most selfish, ungrateful person they knew. The words STUNG! Deeply. From my perspective I had unfailingly tried to be the best person I knew how to be – and it felt in that moment as if my efforts were all for nothing!
As the sting of the moment passed however, I've used those words as perhaps one of my most self-defining tools; Am I grateful? Do I express it? How do I show it? Where am I lacking in my relationships with those around me? With God? With my Savior?
These last few weeks have been times of reflection and learning and an opportunity to pick up the defining tool of gratitude. I've received several gifts of understanding, of perspective and of grace and I'd like to share a few.
1) Through a personal experience I was able to forgive on a much deeper level than I had ever felt before, a very deep hurt from my past. The people and events I will keep private, but the experience was incredible! The forgiveness came about because a new friend helped me feel, really feel, what God's love is. God's love can be misinterpreted, and often is, but every so often a rare connection is made where love is just understood – nothing to add or take away – it just is, and we are all better because of it! So – I am grateful- grateful for God's love for me and for His ability to orchestrate circumstances and events to place people in my life that would allow me to feel His deep love.  I am grateful for the new, deeper insight of that old situation and how current friendships have allowed me to heal part of my past with perspective that I didn't have before.
2) I am grateful for the incredible teachers in my life that have come in the form of children! My oldest son has been an incredible example of strength this last week! Life is fragile…let me explain.
My son lost one of his very best friends this week in a very unexpected way. My son's strength in immediately seeking and reaching out to God to comfort his soul was both touching and awe inspiring! For as soon as he had a measure of comfort he turned to then strengthen his other friends and the family of his friend. I watched him choose to wear white to a funeral symbolically recognizing that this would not be the end of their friendship. I watched him choose to celebrate life, to find the good, and remind others of the same. The ability to find joy has been my son's gift – a hard won gift as he's been through his own refiner's fire – but a gift nonetheless that he openly shares with those around him. I'm grateful for the teacher my son has been for me!
3) I'm grateful I don't have all the answers! Whew!! Sometimes we feel pretty smart – like "we've got this!", like we know what we should do – or at least know how to find out what to do. Well this week was the reminder of just how little I really know! I've been humbled as I've watched people close to me struggle and not know how to help. In the past I've felt I've been able to clarify, understand or at least be guided toward a direction for answers. This week I was taught just how vulnerable life makes you. It has reminded me just how dependent I am on my Savior and my God to comfort, educate and shift my perspective to see what I haven't been seeing. I'm grateful for the lessons I'm learning as I gain new levels of compassion for children, parents, friends and siblings! I'm also grateful for my belief and my deep understanding that I'm not alone, and that I don't have to have all the answers! This unknowing but peaceful calm is enough for me for now.
4) I am grateful for the "desire to be great" that was placed deep inside me and nurtured as a child. I know we all have it! It's a piece of Him – a piece of deity within each of us! I'm grateful for a father that spoon fed me Zig Zigler's "Born to Win" at the dinner table and did his best to tell me of my greatness – even at a time when perhaps I didn't let it sink in—it's what I draw on now!
This last four years and especially this last 12 months has been a truly incredible ride! Four years ago a little spark lit up inside me saying it was time for more. I didn't know what "more" was at the time but felt guided to start with education. I went back to college and after 2 years of solid coursework (no summers off here!) & 3 changes of my major at Dixie State I felt again guided to shift plans. I'd dabbled and played with helping others with their health for almost a dozen years, but decided to make it a "real" profession and business. In the last 20 months I attended and graduated Massage Therapy school, completed several advanced certification courses, received my Board Certification distinction, helped a group of amazing women get a business off the ground, and then when prompted to do so, broke away from the group to start my own place of business. Nature's Path Massage & Healing Arts was born!
The last few months have been SO MUCH FUN! (ok…a little crazy, but fun!) Business is great! I've had greater availability for clients than ever before, and I'm surpassing the goals I've had for myself each month! THANK YOU to all of my clients and friends who have believed in me, been patient with my growing pains, and have sent your friends and neighbors my direction with your referrals! I'm loving what I get to do each day as I offer my assistance in helping you obtain your goals!
I'm so grateful for the desire to always be improving – always seeking to be better than I am and love how that journey is shared with so many others as we learn and grow from each other. I am indeed grateful for the self-defining tool of gratitude as a measure for what matters most in life. Gratitude opens doors we haven't seen before and for me brings balance to my very full, rich life! May each of us seek out the self-defining tools – the ones made just for us! THANK YOU FOR AN AMAZING YEAR!!!
And by the way…Awesome things are coming in 2015, I can't wait to start sharing!